Go back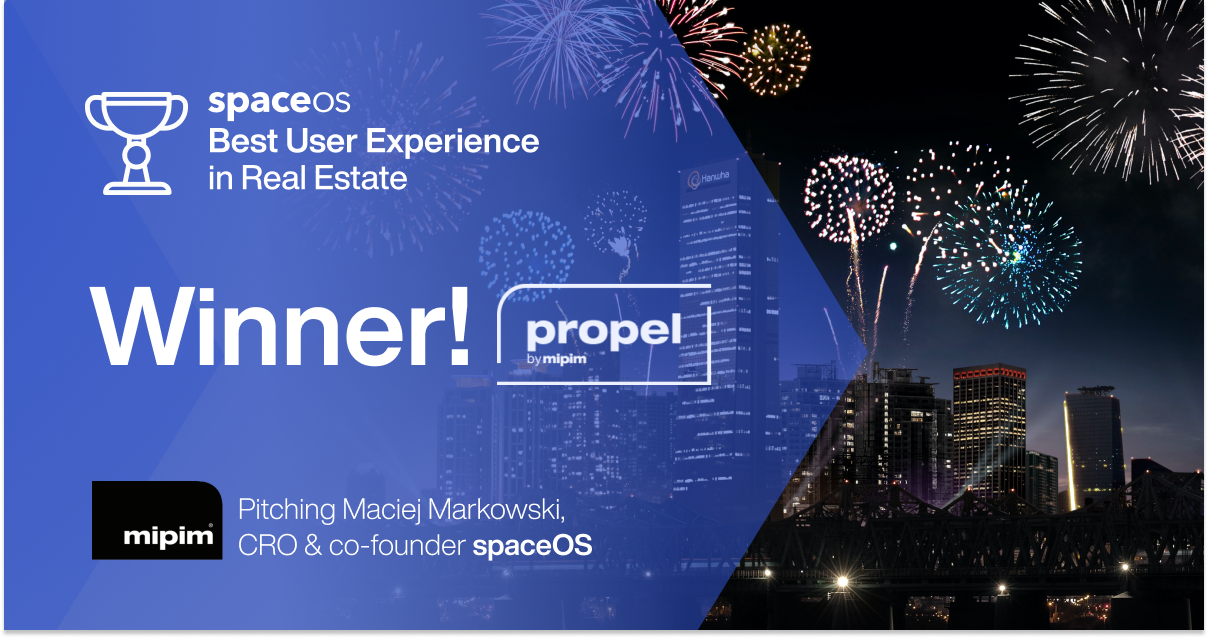 spaceOS wins Propel by MIPIM 2021
spaceOS wins "Best Startup" under the user experience – real estate category at Propel by MIPIM in Cannes. Here's our take on the event and why this award is significant.
Propel by MIPIM Startup Competition, hosted in partnership with global partners like Union Investment and big Real Estate tech partner MetaProp, just revealed the most promising and innovative startups, tackling the biggest urban challenges around the globe. Seeking top emerging startups in the Real Estate Industry, Propel by MIPIM announced spaceOS as the Best Startup & Winner under the User Experience category.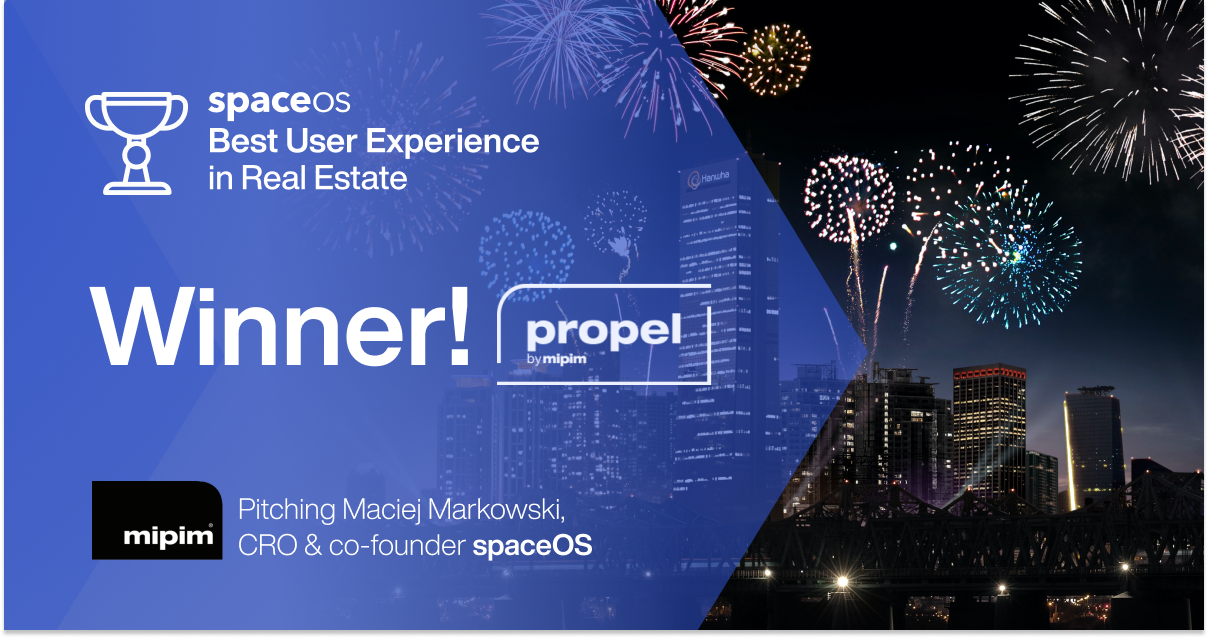 Our MIPIM 2021 Cannes Experience
Taking place on the 7th and 8th of September 2021 in Palais des Festival in Cannes, the MIPIM conference centered around real estate, innovation and sustainability delivered on its promise, by being built around the triple bottom line of People, Planet, Performance. As such, the conference responded to the increasing, integrated needs of all users of urban space, spearheaded discussions of a low-carbon future, and a circular economy, along with focusing on achieving financial returns on a local, national & global level, being a business conference at its core of course.
With values aligned with spaceOS' mission we've happily joined discussion panels, had our fair share of meet & greet sessions in the vibrant corridors full of likeminded real estate innovators, and we're still pondering the big questions and how spaceOS can become a major factor in finding a solution. We met friends, discussed partnerships and quite frankly propelled a few deals in the process. Thanks MIPIM and everyone we met there including:
Wouter Trouffino Thank you for the great conversation about future of office and current market changes.
Rishi Lodhia Thanks for the great convesation about future of building access & security
Dr Christoph Holzmann We had a great time together during the startup MIPIM pitch about ROI of building digitization – thanks!
Christoph Salzer Insightful talk about tenant experience technology in office buildings, much appreciated!
Stephane Villemain Good talk on sustainability & office buildings, how predictive attendance data can make the building more sustainable, thanks!
Of course the insights don't end there. Many more encounters followed and we chatted tirelessly about how to get from here to a sustainable economy? How can real estate protect cities from global warming? Are we rethinking the purpose of buildings in real estate? How does, in the long term, social distancing affect different real estate asset classes? Can innovation overcome the crisis?
The event covered important asset classes alongside hosting interesting geo-focused sessions and of course the Propel by MIPIM Startup Competition. Here's a photo gallery from the event and a few highlight photos to remember it by.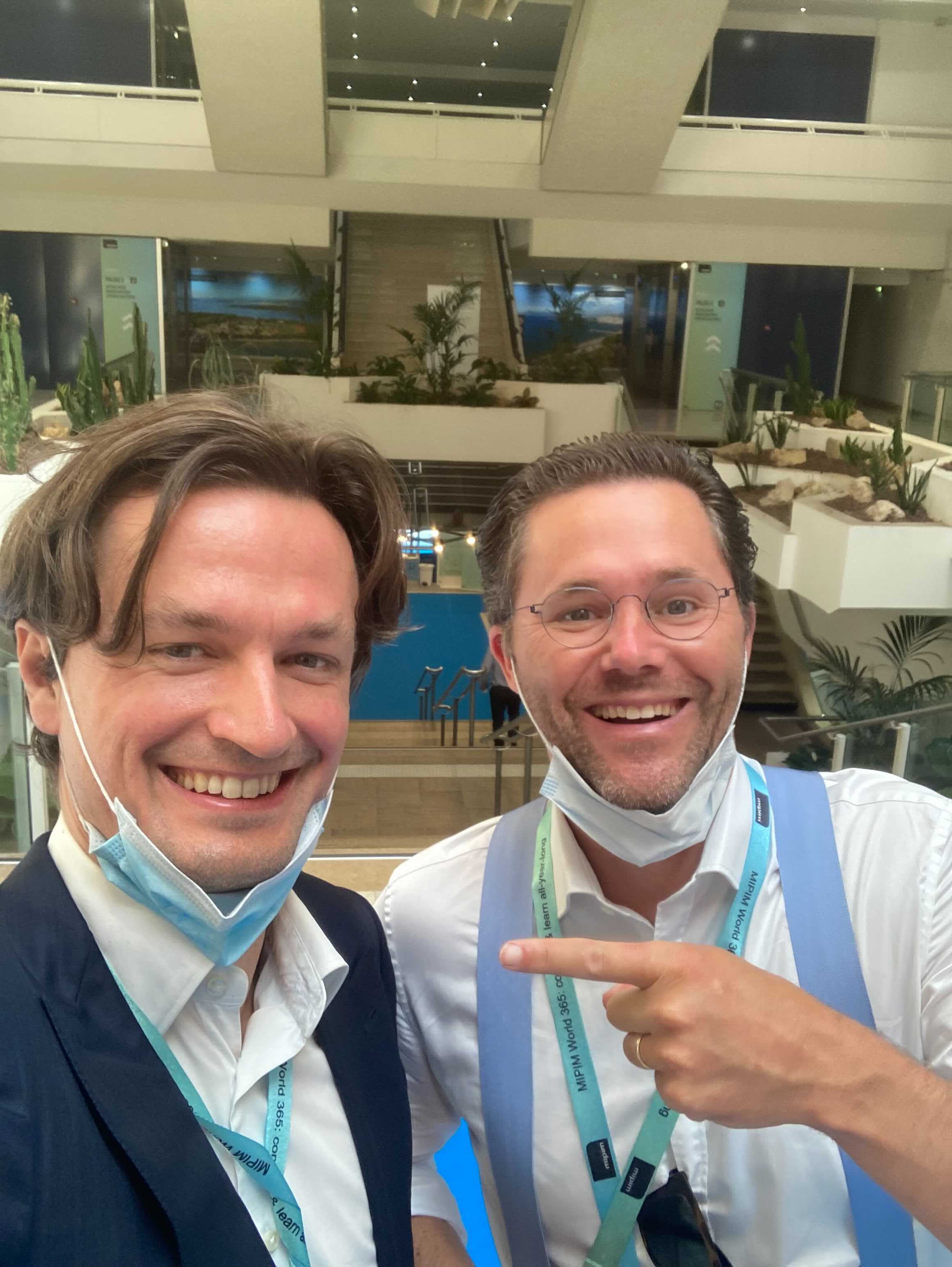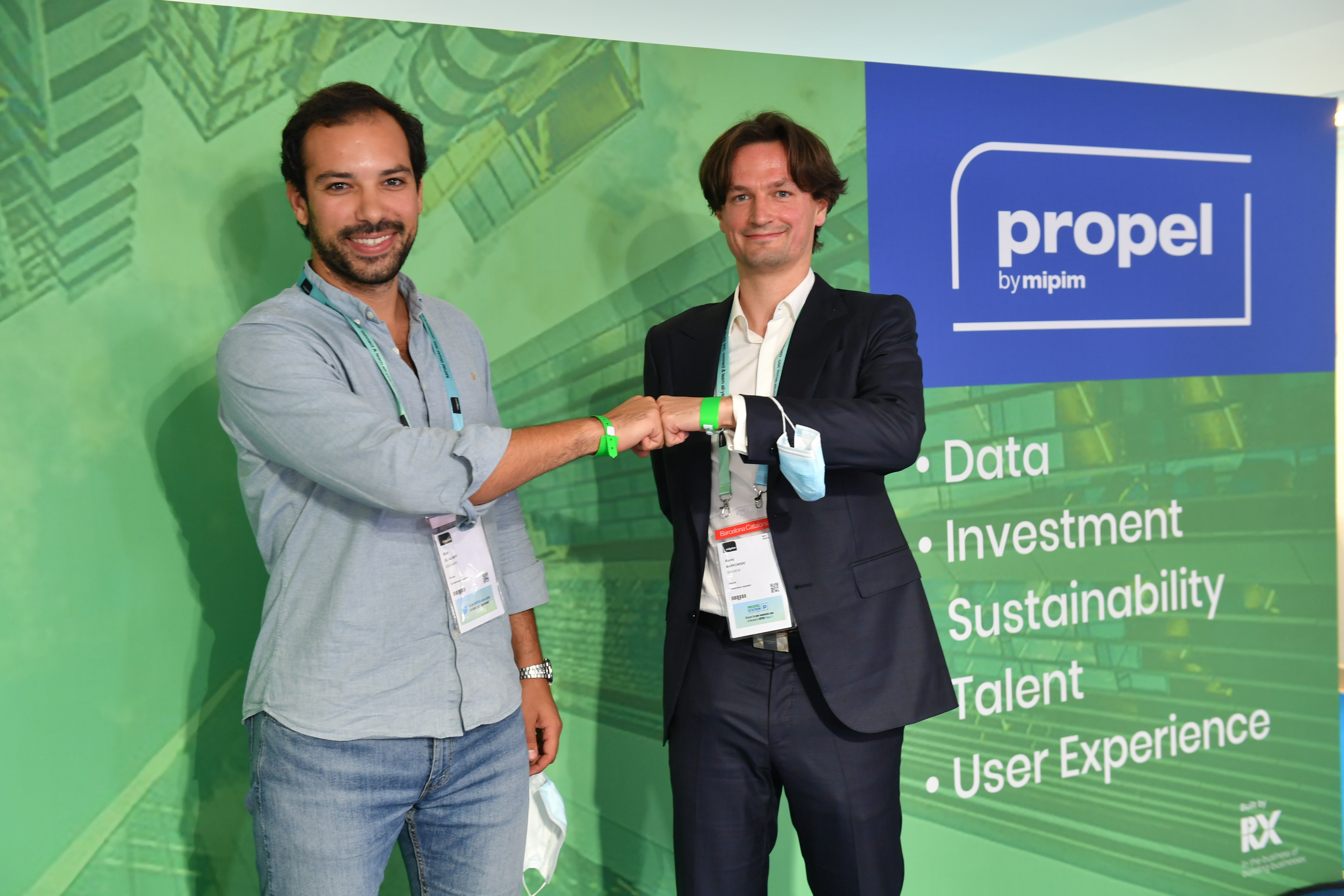 Producing the winning pitch – spaceOS as the best startup in the User Experience category under Real Estate
Our team was set on winning this one from the start and everyone on board has put in a lot of effort into making the leap. We're growing rapidly, changing from a novelty startup to leading force in the real estate digitization and workspace transformation industry. Engineering & Product innovate constantly to deliver a seamless workplace user experience to all our clients and their tenants. Sales & Growth go out of their way to meet customer expectations by tailoring the product to their specific geography and requirements, as each digitized, spaceOS-enabled building & office has its quirks and intricacies that can only be facilitated with an agile, flexible approach to requirements and successful deployment, the responsibility of which falls under yet another team over at our spaceship. Finally Design & Marketing worked tirelessly to boil down the core value proposition into a 3 minute banger of a pitch deck – merely a tool to support the actual speech of our one and only CRO and Co-founder Maciej Markowski, who delivered the winning pitch.
Slowly growing out of our startup heritage and becoming a mature workplace experience platform we still feel a strong need to collaborate and share with our peers, so for everyone who didn't have the opportunity to hear the pitch, here's a transcription along with a link to the actual deck.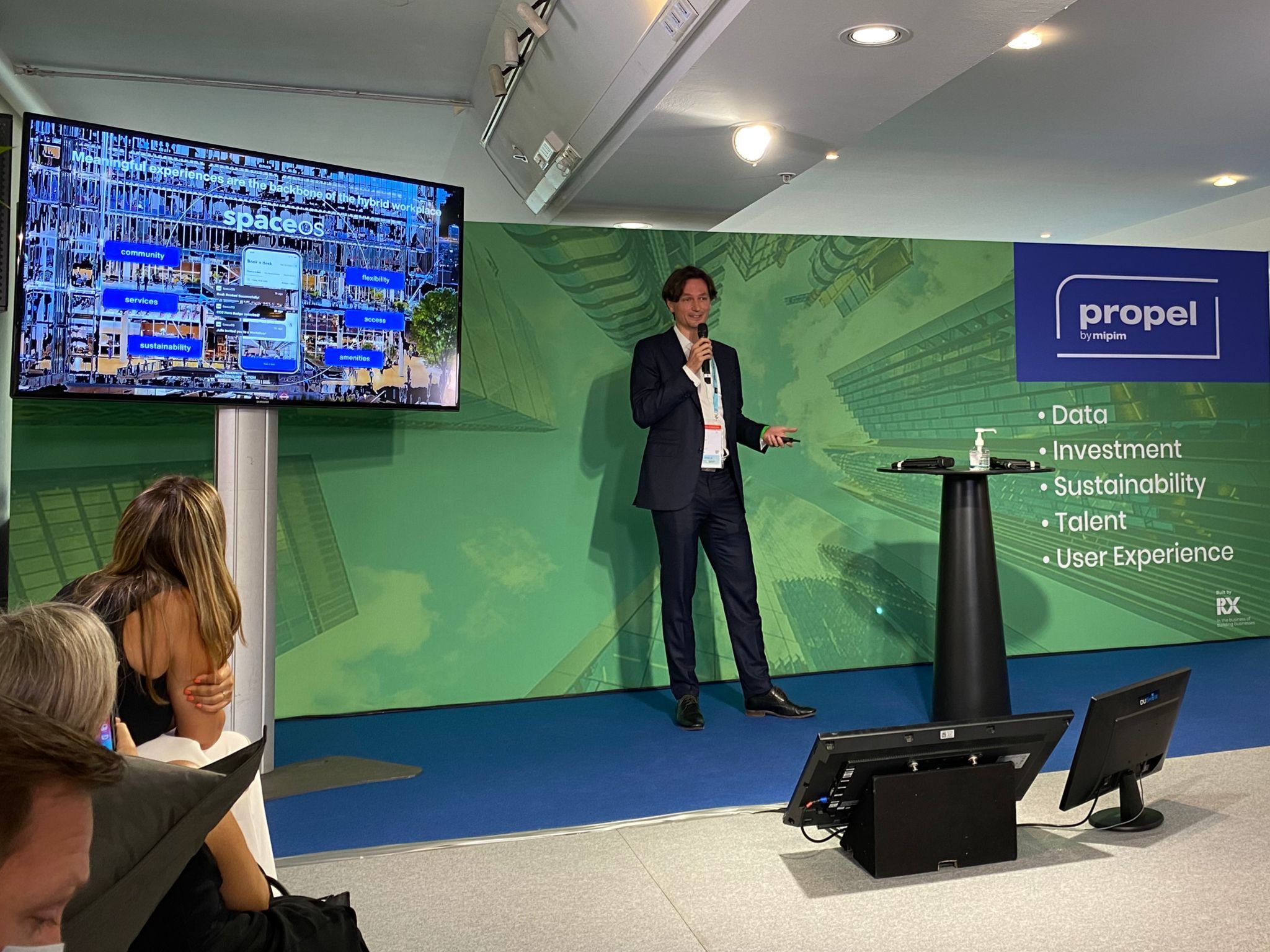 What does a winning startup pitch in the real estate industry sound like?
Good afternoon everyone,

It's madly pleasant to be again physically in Cannes. Sea breeze does not travel well over Zoom.

Speaking of fantastic experiences. We're spaceOS and we're all about making workplaces great.

We believe that interacting with an office building should be wonderful. That whether you're getting an elevator, parking space a desk or ordering food, neither of these should be more complicated than unlocking your smartphone.

For the end-user it's magic at their finger tips - behind it there's a powerful platform with open API integrated with over 30 access control systems, 7 elevator systems and more payment, CRM and accounting systems than I can really remember.

We created spaceOS, so that people like Julie, can utilise everything a workplace and an office building have to offer. Whether it's booking a yoga class, finding a colleague or skipping lunch queue. We want to make her feel empowered, and better off in the office than she ever was.

We've also built it for people like Jessica from Commerz Real, who asset manages Julie's building in Chicago.

We give her deep & actionable insight on her customers' preferences and behaviours. Renewing a lease is no longer guess work, she knows how well her building works for her clients, she can prove that it's a talent attraction & retention tool. She is armed with solid data to power her decisions.

She also probably doesn't mind all the operational savings spaceOS brings from automating visitor management to digitizing invoicing.

And with all the access systems and booking data, she can do real magic when it comes to energy savings and ESG goals.

And it's not a beautiful dream you've just heard about. We're deployed in 25M Sq Ft of office space in 19 countries, working with top asset managers like Allianz, Immofinanz and CPI, as well as directly with tenants like Hitachi, flex spaces of Engel & Volkers and Fattal. We've grown threefold, since you last saw us on stage in Paris. (edited)

And let me leave you with myhive, where we cover 660k sqm of office space across 7 countries, 6 languages and 7 jurisdictions, enabling Immofinanz to run fully automated & digitzed short leasing process, tying the 22 buildings into a single network, enabling their customers to get anything from a desk for a day in Vienna to a proper lease in that beautiful building in Warsaw you see on the screen behind me.

We believe this transformative journey has only started. Thank you very much!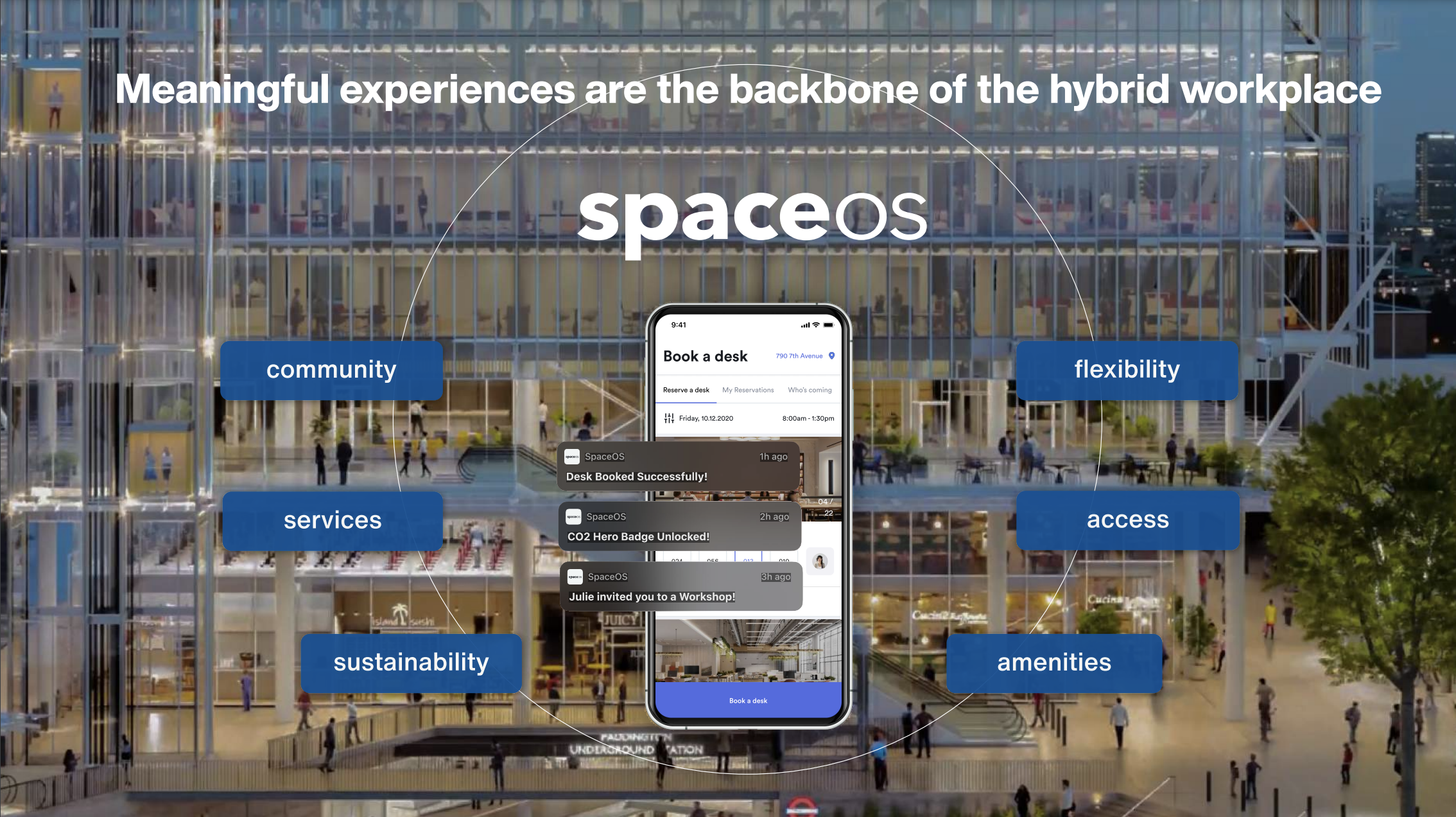 Go back